Navigation
Video

Where can you use Digital Signage?
Whilst there is no limit on where you can and can't use digital signage, particularly with the advent of LED and weatherproof screens which are ideal for outdoor digital signage, there is no doubt that it is more effective in some places than others. Here are just a few suggestions of where and how Digital Signage can be used to great effect in many different environments.
Busy employees often overlook or ignore posters. Strengthen your internal communications by replacing paper-based signage with digital signage in communal areas, such as break rooms, cafeterias, and sales floors. Digital Signage is also ideal in reception areas to welcome guests and publish company information to visitors or customers.
1. Save the time it takes to distribute—and correct—information.
Making copies to post, hand out or post on notice boards can be very time consuming. Avoid having to do this by using a centrally controlled or remotely managed digital signage system to broadcast corporate-approved information. You'll not only save time, you'll also have the ability to correct and customise content live; even remotely! This makes digital signage ideal as a replacement or complement to company intranet's or newsletters.
2. Make manufacturing operations more efficient.
Get real-time, supply chain-related info to employees through screens hanging from ceilings or on walls near the assembly line or in break areas. Go a step further by installing interactive touch screens for process control. You can even use screens for training or distributing CCTV video from one area of the plant to another.
3. Communicate everyday info more effectively.
As soon as they walk in, they'll know the day's agenda, whose visiting, where meetings will be held, important orders to fill, share prices, and even whose birthday it is. That's because it's all right there on a screen in front of them, automatically delivered via links from a corporate intranet or RSS tickers. They no longer have to wade through e-mails or attend staff meetings to get this info. Digital signage is also perfect for advertising corporate events and social activities.
4. Alert them to emergencies.
Use signage to alert staff and visitors to emergency procedures, location of fire exits and other health and safety information.
5. Motivate your workforce.
Make internal messaging resonate. Live graphs and other imagery will better illustrate how far you have to go as a company, whether it's making sales figures, satisfying customers, achieving an accident-free safety record, promoting healthy living, and more. Using signage to screen live TV in recreation areas can also increase staff morale and reduce absenteeism. Screening entertainment can help staff relax during their free time.
6. Communicate policy and benefit plan changes.
Display messages in big, bold letters, instead of tacking printed-out memos to a notice board. People gravitate to colorful, big-screen presentations, which makes them ideal for communicating info employees ordinarily regard as boring.
7. Spotlight company achievements.
A photo of your Employee of the Month or an executive who's landed a major account may not be enough. Make them feel truly appreciated with a live video of them receiving an award or much-deserved thank-you.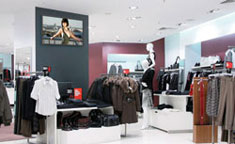 One of the most obvious and most attractive uses for digital signage is in the retail environment. Few industries move as fast as retail and distinguishing yourself from other retailers can give you a critical advantage. Appeal to more of the all important senses of consumers with stimulating visual and audio effects. Turn heads and strengthen your brand with digital signage from Black Box.
1. Set up in-store signage for promoting your products or services.
Digital signage players enable you to dynamically output and display advertisements and promotions. These can be shown using video, audio or graphics; or a mixture of all three, in order to get your message across. Not only that, these messages can be controlled from one single location (perhaps the marketing department at your head office) across an IP link. This gives you the capability to send different content to multiple sites, meaning you can tailor individual offers, to individual locations or change content across the country in one go. The days of waiting to print posters and putting them up in windows are long gone!
2. Reach customers at the point of sale.
Whether they're in checkout lines or browsing the aisles, shoppers naturally hone in on what's interesting. Eye-catching digital signage can grab their attention one last time before they go elsewhere.
3. Push hard-to-move items more aggressively.
Unloading older products to make room for new stock is every retailer's challenge. Bring new life to sale or overstocked items with digital signage that highlights discounts and reductions. Go even further and use "smart" technology that ties your signage content to your stock level database, so what's promoted on-screen dynamically and automatically reflects the oldest stock you have or stock you want to move most, but in real time.
4. Introduce and upsell new items.
Introduce new items with aplomb. Use eye-catching digital signage to launch new items in store and create a buzz in the showroom or on the shop floor. Not only that, use digital to upsell higher value items or additonal extrras, giving you the opportunity to change consumer's minds and increase revenues.
5. Draw traffic inside.
Getting customers into the store can be a struggle, whether you're in a mall, on the high-street or in a retail park. Digital signage does wonders at enticing passersby, catching their attention so they step inside.
6. Become someone else's advertiser.
In addition to selling your own items, there's great ROI potential to be made advertising the products or services of others. Set up an in-store digital signage system to do just that and sell advertising space to companies promoting complimentary products or services. This is ideal for supermarkets and department stores who sell huge ranges of branded goods. It's also great for advertisers as the market segmentation and targeting they can achieve is great, so everybody wins!

See our Digital Signage/Retail case studies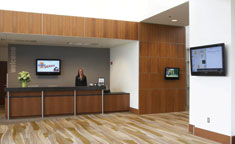 Many people who are being entertained are often in unfamiliar surroundings. Hotel guests, conference or trade show attendees, and restaurant, club and bar patrons can all have their service experience enhanced with clever use of digital signage. Remember, a good service experience leads to great word of mouth and repeat business.
1. Promote your restaurant and bar offerings.
Digital signage positioned at points within a bar or restaurant can be used to advertise food & drink specials or full menu items. They can also advertise live music or other forthcoming events. You can even configure the screens to dynamically update throughout the day to reflect breakfast, lunch, and dinner, and spotlight what's most appetising or items that you want to sell more of.
2. Keep guests informed of hotel offerings.
Welcome messages, pool hours, the location of the fitness room, bar, restaurant and emergency exits, the availability of broadband Internet and checkout times are all useful things that could be displayed on digital signage throughout a hotel. Mix this general information with something you charge extra for (such as room service, dry cleaning, or pay-per-view movies) and let the digital signage help increase revenue.
3. Keep guests aware of the local area.
Use media players in public areas such as receptions or foyers and display content related to the local area, such as sites to visit, local weather, travel conditions, maps and news. You can also use these displays to generate income by selling advertising space to local businesses such as bars, restaurants, museums, galleries, theatres and taxis whose services would be of use to your guests. You can administer and sell the space yourself or hire another company to do it for you.

4. Tailor content to groups.
Roll out the welcome mat for trade show, conference, and wedding guests with digital signage in lobbies and other areas. Customise content to their specific needs; guide them where to go with directions to ho
spitality suites or conference rooms and display room schedules on-screen. You can even showcase conference speakers and topics as part of the scheduled streaming content.
5. Extend the content to guest rooms, too.
Content shown on large plasma screens in the lobby and other common areas can be distributed to hotel rooms, too—often using existing hotel infrastructure. This way, you ensure that more guests view your content plus you can charge a higher advertising rate for other companies' content. With the right technology, you can even tailor content to the specific type of guest (narrowcasting) such as business travelers, tourists or conference attendees.

See our Digital Signage/Hospitality case studies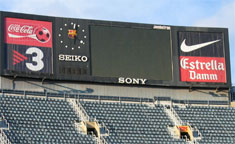 The leisure industry is always trying to connect with it's audience as it fights for consumer's valuable disposable income. What better way to reach your customers and prospects than with a digital signage solution from Black Box. Even use it to increase your revenue and strengthen your relationship with other local businesses at the same time!
1. Sports Stadia and Venues
Use giant LED screens for scoreboards and line-ups, or digital advertising banners surrounding the pitch or court. Use plasma or LCD screens inside the stadium/arena to display food menus, directions, toilet locations, emergency procedures, and advertising. Even mix this with live action of the event or action replays!
2. Golf Clubs
Display normal club information such as opening hours, directions and menus, but combine this with increased revenue generators such as adverts for lessons, membership or items from the pro-shop. Even use your signage to display live scoreboards from competitions that you are hosting, ideal as it can be updated on the fly when entrants reach the clubhouse! Combine all this with live TV or video and bring your club right up to date and entice more members.
3. Theme Parks
Direct people to the information kiosk, toilets, lost property, ticket office and more. Sell your gift shop or restaurants. Display signage at rides and display waiting times or restrictions along queues. Increase customer's experience by keeping them entertained showing live TV or footage of rides from the theme park anywhere they could congregate or have to wait.
4. Bowling Alleys
Use signage to direct people to lanes, toilets or the bar/food area or towards emergency exits. Enhance people's experience by displaying scores or special messages for groups such as birthdays. Sell advertising space to local taxi firms or public transport and gain a further revenue stream.
5. Cinemas/Theatres
Show what's on, screening times, prices and concessions, and combine with promotions on food and drinks. Mix this with trailers for upcoming movies/shows to engage your audience and promote return visits. Even use your signage to launch special competitions in conjunction with the film companies and increase your ROI! Sell advertising space to local restaurants or taxi firms and your signage should pay for itself.
6. Casinos
Point patrons to emptier tables or higher revenue generators. Sell add-ons such as food and beverages and increase their spend further. Show live TV and promote special events in order to lengthen their stay and make them come back again.

See our Digital Signage/Leisure case studies
One of the most obvious and best places to use signage is in airports, train/bus stations, ferry terminals and taxi ranks. Digital signage has historically been more common in these locations than anywhere else, but only really to deliver information. However, these locations offer excellent potential for advertising too as they contain a captive audience who are often waiting around with little else to grab their attention.
1. Deliver information.
In its crudest form this may be just a simple message informing travellers of departure and arrival times, gate or platform numbers, baggage reclaim numbers or other locations such as shops and restaurants, but even this information can be delivered with greater impact using digital signage. Something as simple as the placement of screens, such as alongside escalators or on the floor or ceiling, can instantly give your messages greater impact. You can also give passengers advanced warning of delays, queues and what documents they need in order to increase safety and reduce waiting time making their journeys smoother and more enjoyable.
2. Gain easy advertising revenue.
Travellers spend a lot of time waiting, and advertisers love them because they're part of a demographic that buys a lot of high value items, particularly business travellers. Connect the two and reap substantial revenue with dynamic digital signage set up to stream advertisements anywhere this captive audience goes to pass the time, including business lounges or waiting areas. The content itself is provided—and paid for—by others, but you can mix it with entertainment, news feeds, and other travel related info—and, if necessary, you can interrupt single or multiple content feeds to issue important announcements. The income you generate from advertising will more than cover the cost of setting up the system.

3. Multiple lanaguages.
Travellers unfamiliar with your location need directions, and information on the local area. Give it to them through digital information kiosks or touch screens in their own language. Not only that, you can then generate revenue by selling ads for other connecting transport companies, hotels, bars, restaurants, and car rental companies. These kiosks can also include local weather forecasts, and travel advice, as well as large-scale maps of the area.
4. Broadcast emergency alerts and instructions.
Central to any emergency plan is the ability to broadcast accurate and helpful info to the public fast — and in the most attention-getting way possible — particularly in an area the size of a large international airport or train station. Digital signage is just the tool for this. You can issue evacuation orders and other emergency procedures in great detail with easy-to-follow arrows and icons, as well as clear audio instructions. Details can be streamed system wide with the push of a button, even from a remote location, and content can be updated quickly even changes occur.

See our Digital Signage/Transport case studies
Educational establishments promote learning and advancement. What better way to show this off than a campus wide, fully integrated digital signage system, displaying helpful and relevant information to students, teachers and visitors alike. Bring your school, college or university into the digital age and earn extra revenue with help from Black Box.
1. Promote events on university campuses.
Install large screens around campus to get the word out about upcoming concerts, sporting events, visiting speakers, and the like. Position screens anywhere students frequent: cafeterias, libraries, halls of residence, student unions, and gyms.
2. Aid your teaching methods.
Large screens can display things more clearly to students in classrooms or lecture theatres more clearly than blackboards and older, projector-based solutions. In fact, using our video extension and distribution products you can broadcast a lecture held in one classroom to a large screen in another room—using a building's existing copper cabling.
3. Broadcast emergency alerts and instructions.
As is the case in all public buildings, emergency messaging systems are essential in educational institutions. The same digital signage you use to broadcast information can also be used to alert students and staff to health and safety issues, fire drills or other emergencies. Sending prerecorded evacuation instructions or other safety messages can even be done in seconds helping to reduce panic and increase safety.

4. Gain easy advertising revenue.
It's no secret that your students are a key advertising demographic, in fact some advertisers are so keen to target them they are even willing to underwrite the cost of the digital signage equipment itself in order to reach them. By allowing advertisers to stream content on your screens, you can generator further revenue still, especially when mixed with your own content.
5. Important up-to-date information.
Inform students quickly and easily of changes to classes whether they have been cancelled, rescheduled or relocated. Digital signage can also be used to provide timetable and location information to students and teachers/lecturers as well as visiting guests.

See our Digital Signage/Education case studies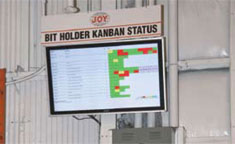 An industrial environment such as a factory, may not seem the best place for digital signage because of the likelihood of equipment damage or degradation. However using hardened displays and video extension equipment means information can be broadcast to the most sensitive and inhospitable places without risk of damage from dust, dirt, heat or humidity.
1. On the shop floor
Use displays on the shop floor of a manufacturing plant to show stock levels or locations and help improve inventory management and speed up manufacture. Use to show part locations in a warehouse and improve picking/packing and delivery efficiency. The system can even be set up to feed information back to suppliers to ensure that parts are being created in time for when existing stock runs out.
2. Keep equipment clean
By using a digital signage solution in conjunction with one of our video extenders you can broadcast vital information in extreme environments where equipment is at risk from dust, heat or humidity. Keep your expensive equipment in a clean safe environment and use a video extender to the hardened displays, meaning you can relay up to the minute information to extreme environments such as factory floors or open mines, without any risk to your equipment.

See our Digital Signage/Industrial case studies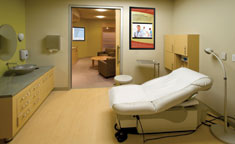 Although perhaps not the most obvious place for digital signage, there are still many different uses for it in a hospital or health centre environment. From traditional wayfinding or information provision to targeted advertising or marketing campaigns on a national health service level.
1. Wayfinding
Anybody who's been in a large hospital or medical facility knows that navigating your way around is not always that easy, bearing in mind the numbers of different floors and departments in just a single hospital building, let alone an entire campus. Use digital signage for easy wayfinding or evacuation in an emergency situation. The use of touchscreen information points could also aid in simplifying hospital navigation.
2. Waiting rooms
Improve the comfort of waiting rooms by showing live TV feeds or other useful information regarding patient visiting times or doctors visits, or the location of toilets or giftshops within the hospital. Even generate revenue by advertising local businesses such as taxis, bus services, flowers or newsagents or national brands such as pharmaceutical or healthcare companies' products.
3. Cafeterias
Display opening times and menus or promote specials. Content can be scheduled to automatically update at a certain time of day, so menus can change between breakfast. lunch and dinner without doing anything.
4. Staff Rooms Improve visibility of staff by showing rotas/shift patterns in staff rooms and helping them know exactly when and where they should be somewhere. Advise of any meetings or social events or simply use to provide information or reminders regarding best practices or updated hygiene laws etc.
5. Information Digital signage is a great way to inform the public of the wide number of services available on the NHS or through their local GP, such as flu jabs or regular check-ups. It's also a fantastic tool for reminding people of precautions to take (such as recent scares about bird flu) to minimise the risk of infection or disease. It's also easy to mirror national TV or radio marketing campaigns using localised digital signage. It can even be targeted on a department level, such as child friendly campaigns in the children's ward.

See our Digital Signage/Healthcare case studies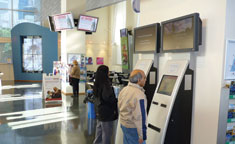 There are many other places that, although perhaps less obvious, are ideal for digital signage. These include estate agents, petrol and service stations, warehouses, trade shows and exhibitions, factories, museums, galleries and more. In fact we have even come across a situation where, using our Multivision product, the displays have been used as a work of art!
1. Advertising (Indoor and Outdoor)
Fairly obvious I guess, but digital signage is increasing in popularity for advertising. Using LED, LCD and Plasma screens in place of traditional static ads such as one sheets and billboards, digital signage brings advertising to life. You can now show hundreds of ads where previously only one was shown. It is ideal for creating eye-catching and interactive campaigns and reaching your target audience with greater effect. By using one of our remote management solutions, you can control all of your content from a single location and update it all at the same time or as and when you like. You can also schedule ads to appear at certain times of day or change them in seconds giving far greater control and targeting capabilities. You can also reduce costs as there is no printing, or sending people to site to change posters.
2. Estate Agents
Stand out from your competitors by displaying property information in your window. You can show pictures, floorplans, videos and text to bring your properties to life 24 hours a day!. As soon as a property is off the market or a new one is available, it can be changed in minutes. No hassle, no printing costs, no delays. Make your properties easier to sell!
3. Museums
Guide visitors to gift shops, toilets, cafes or exhibits. Display exhibit information, menus or admission prices. Even use the signage as part of an exhibit itself!
4. Trade shows and Exhibitions
Stand out from other exhibitors with a cutting-edge digital signage solution. Show a video of your product or service in action, it'll carry far more weight than a salesman or brochure.
5. Petrol & Service Stations
Display petrol/diesel prices, loyalty card information or safety warnings. Advertise facilities available, or broadcast important travel and weather information to road users. Combine these messages with paid for advertisements from breakdown companies or other complementary businesses and let your signage pay for itself!
6. Warehouses and Distribution Centres
Display driver, travel and weather information to increase your logistical planning and increase the quality and punctuality of your service.